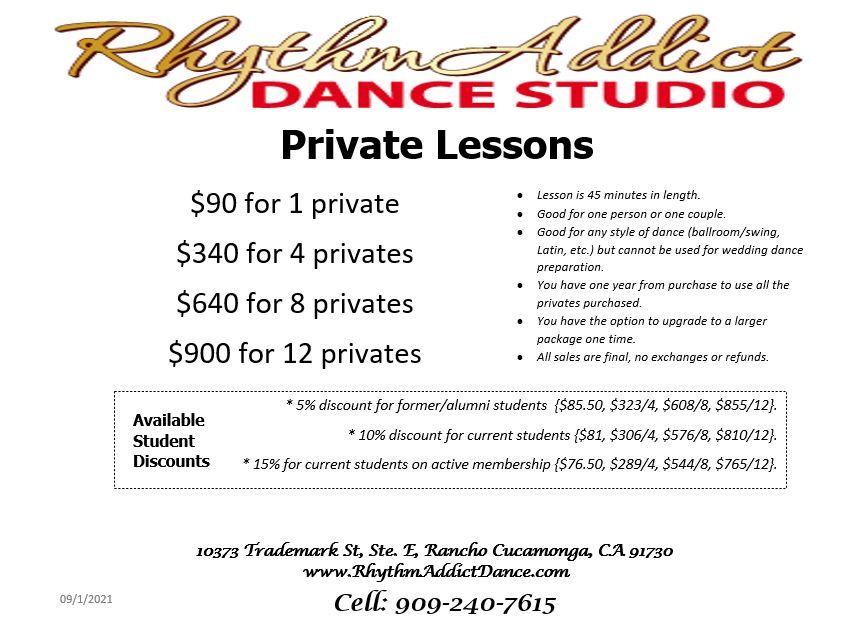 Private Lessons are:
One-on-One: just you (or you and your partner) and the teacher
Individualized/Customized: on your time schedule, at your pace
Any dance style you want (and that we know): anything from Salsa and Bachata to Ballroom and Swing to Country Western
With or without a partner: bring your partner or dance with the teacher, all teachers both lead and follow
When to use Private Lessons:
You can't attend the group classes - times don't work for your schedule
You can't attend the group classes - you want to learn the ballroom/swing classes but you don't have a partner
You are struggling in the group classes and want some extra attention/help
How to schedule Private Lessons:
Fill out the contact form below. The more information you can provide, the better.
We will email you back to determine the day/time of our 1st lesson
Once we've agreed upon a day/time, you'll be asked to pay a deposit of $90 to book the private which you can do through Venmo or Zelle (that deposit can then be applied to a package at the end of your first lesson).
And then, we DANCE!!