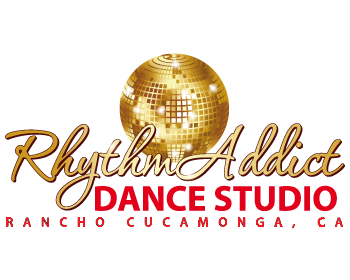 Welcome to RhythmAddict Dance Studio
We are the IE's longest running and most respected dance studio catering only to Adult learners (18+). We specialize in popular partner dances: Salsa, Bachata, Ballroom & Swing. We have the cure to the dreaded "two left feet" syndrome so many people suffer from, and the cure is fun, easy, great exercise, and the best way possible to make new friends!
Click on any of the links below for more information. Use our "Create an Account" page to create a new account. Use our "Buy Classes" page to purchase classes. Use our "Book a Class" page to book an upcoming class. Go to "My Account" to view and make changes to your scheduled classes.
Upcoming Events
Salsa y Mas Social Dance on Saturday, August 13th
3-Hour Salsa Bootcamp with Esther from 11am-2pm on Saturday, August 27th (Included with $99 Summer New Student Special)
The Rhythm Addicts Dance Team Tryouts - Wednesday, August 31st, 9pm (Limited to 20 participants - text full name to 909-240-7615 no later than 8/30 to reserve a spot)
3-Hour Bachata Bootcamp with Celeste from 11am-2pm on Saturday, September 10thth (Included with $99 Summer New Student Special)
What Our Clients Are Saying
"Great environment, great people!"
Great environment, great people. It is a very comfortable place to be, to learn and to meet friends. The staff is out of this world. It is a place where you start and you do not want to leave. Thanks for all the good memories. I strongly recommend this studio to learn Salsa, Bachata and other social dances.
- Ricardo M.
"We love coming here"
My husband and I were looking for someone to teach how to dance Salsa and Bachata music. First class was awesome and our teacher did a great job teaching these two left feet. We love coming here and everyone is very welcoming.
- Monica H.
"LGBT friendly"
LGBT Friendly and Welcoming dance studio!! My fiancé and I researched many dance studios and we are lucky to have found a funny, knowledgeable, LGBT welcoming dance teacher, Esther. We are in the middle of learning our first wedding dance and we are loving every minute of our lessons.
- Anna A.