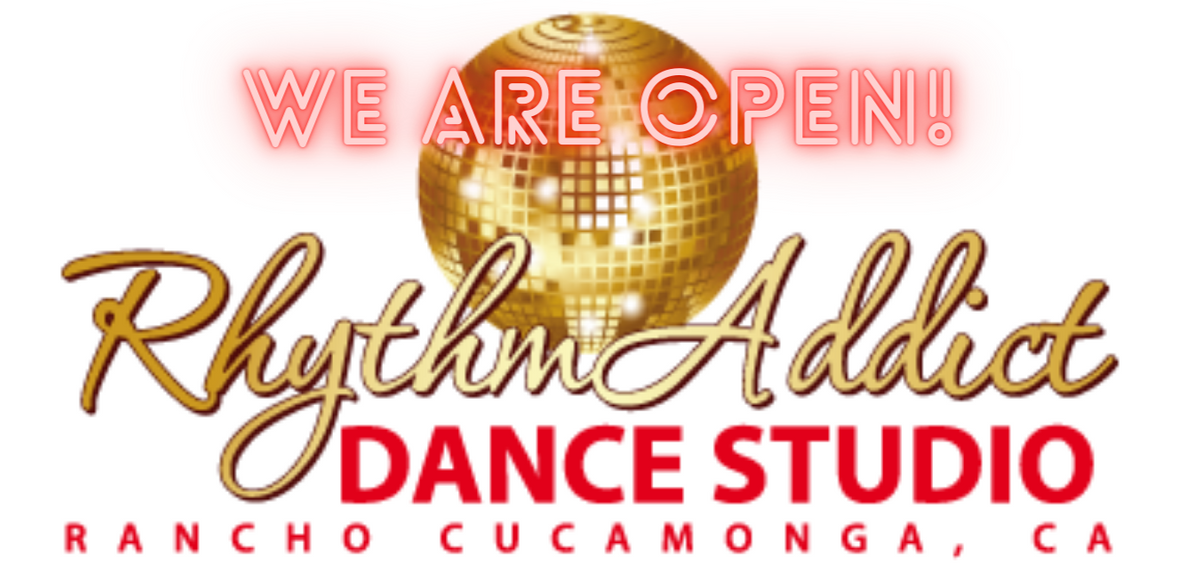 Welcome to RhythmAddict Dance Studio
We are the IE's longest running and most respected dance studio catering only to Adult learners. We specialize in popular partner dances: Salsa, Bachata, Ballroom & Swing. We have the cure to the dreaded "two left feet" syndrome so many people suffer from, and the cure is fun, easy, great exercise, and the best way possible to make new friends!
We have taken a few short breaks from our drop in group classes during the height of the pandemic, but the situation looks to be improving, so we are so happy to announce that we have reopened as of March 1st, 2021!!!
See our finalized class schedule and pricing below. We are now accepting registrations.
We'll never stop teaching, we'll just continue to adapt - with your help and continued support!
And remember - we still offer!
We have continued to offer our Friday night classes (couples only, no switching of partners, small class with significant numbers joining us online every week), a fun and challenging departure from our weekly Salsa & Bachata classes. If you have a partner and would like to learn how to dance to all those sexy, slow, R&B love songs, then join us for NightClub 2 Step in March. Just $97/Couple for the entire month. In person or online. Click here for more information.
Privates! Privates! Privates! The absolutely best way to learn a new dance or make improvements to one you already know. Anything from Latin dances (Salsa, Bachata, Chachacha, Rumba) to Ballroom (Foxtrot, Waltz, Tango) or Swing (East Coast Swing, West Coast Swing, Jitterbug Swing, Hustle Swing), Country (Country 2-Step, Country Waltz) or Night Club (NightClub 2 Step, Blues), our amazing teachers are ready and excited to help. One-on-One - our teachers can be the leader or follower - or with your own partner. Afternoon, evening and weekend availability. A unique opportunity to focus on your specific dance goals with teachers who have a strong understanding of your strengths and weaknesses and how best to help you achieve those goals. We all love the fun and energy of group classes, but there is no comparison in the quality of instruction you can get in a one-on-one private lesson. Click here for more information.
Dance! Dance! Dance! Would a floating floor, built-in sound system, and a wall of mirrors inspire you to move and create and fall in love with dance all over again? Well, since we are not currently holding our regular group classes, the studio is also available for hourly rental. Come on your own, bring a partner, or even a friend or two. Click here for more information.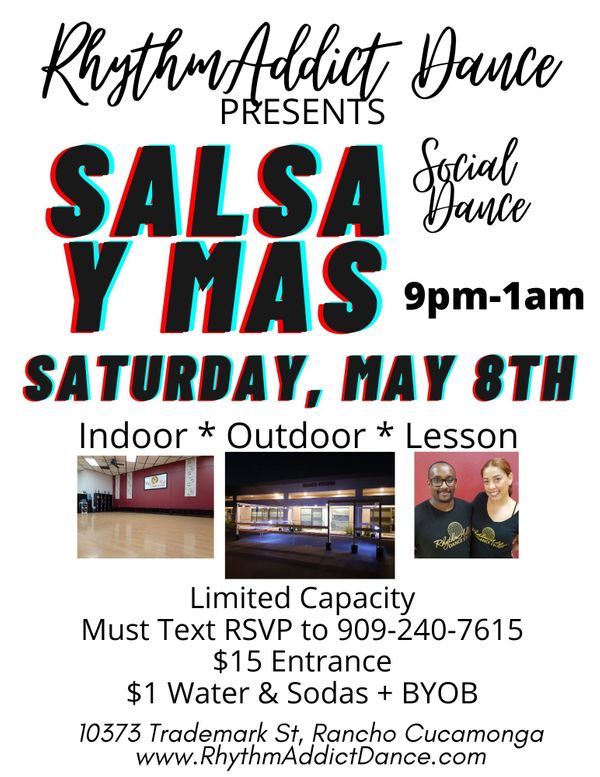 Mark your Calendars - Saturday, May 8th
The return of RhythmAddict's Salsa Y Mas Studio Social Dance - these are so much fun, they are NOT to be missed!!
Doors open 8:30pm
Free Bachata lesson with Alex & Elvira at 9pm (included with entrance fee)
Dancing until 1am
Two dance floors - choose from Indoor or Outdoor
We still have Limited Capacity, so we are requiring a text RSVP with names & phone numbers to 909-240-7615. List will close on Saturday at 2pm.
Entrance is $15 - Includes dance lesson and DJ supplied music indoors and sound system outdoors.
Ample safe parking
$1 Waters & Sodas
BYOB
What Our Clients Are Saying
"Great environment, great people!"
Great environment, great people. It is a very comfortable place to be, to learn and to meet friends. The staff is out of this world. It is a place where you start and you do not want to leave. Thanks for all the good memories. I strongly recommend this studio to learn Salsa, Bachata and other social dances.
- Ricardo M.
"We love coming here"
My husband and I were looking for someone to teach how to dance Salsa and Bachata music. First class was awesome and our teacher did a great job teaching these two left feet. We love coming here and everyone is very welcoming.
- Monica H.
"LGBT friendly"
LGBT Friendly and Welcoming dance studio!! My fiancé and I researched many dance studios and we are lucky to have found a funny, knowledgeable, LGBT welcoming dance teacher, Esther. We are in the middle of learning our first wedding dance and we are loving every minute of our lessons.
- Anna A.