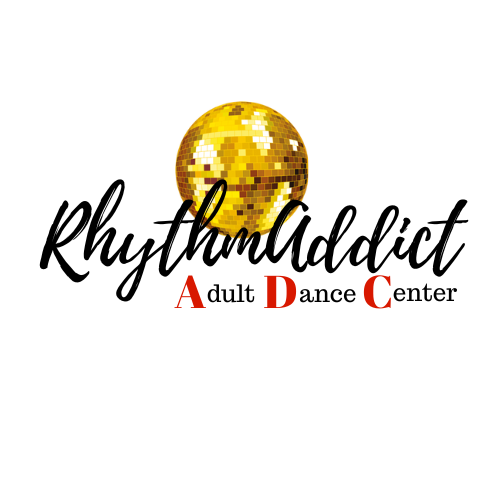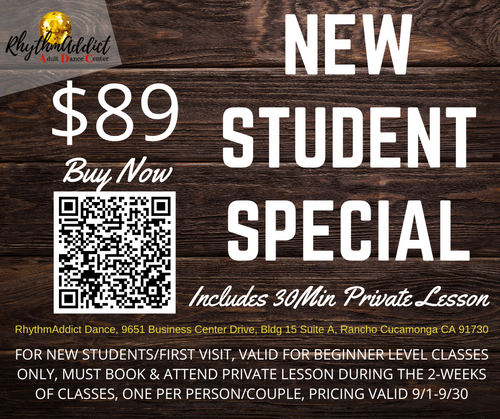 $89 New Student Special
Join us in September and SAVE!!
Come and indulge in your new Addiction at RhythmAddict Dance Studio. Weekly Salsa, Bachata & Cumbia classes.
No experience needed. No partner needed. Start at any time.... see more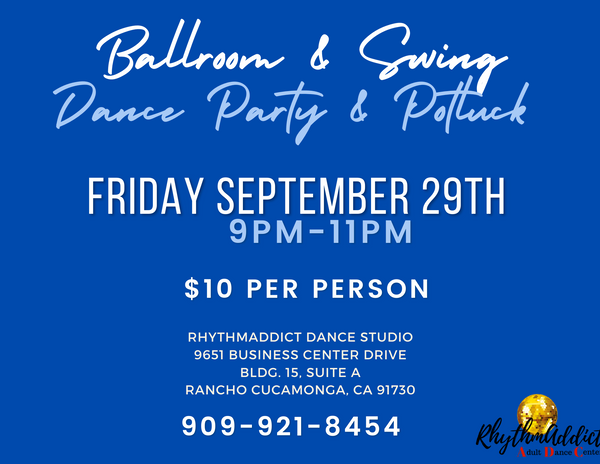 Ballroom & Swing Social Dance
Join RhythmAddict students and friends for a night of practice. Playing a mix of Foxtrot, Waltz, Rumba, Swing and Latin favorites starting at 9pm on Friday, September 29th.
We're doing a 1970's theme and the potluck is sandwiches & sides.
Just $10 per person
Register & pay at the door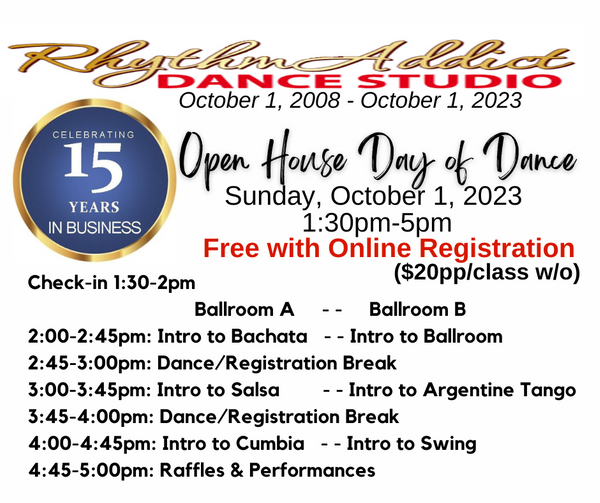 Open House Day of Dance
Celebrating 15 Years of RhythmAddict!!
Join us on Sunday, October 1st, from 2-5pm for Free classes, Demonstrations & Raffles!! Special offers for New Students!
Free to attend with online registration - $20 per person per class for walk-in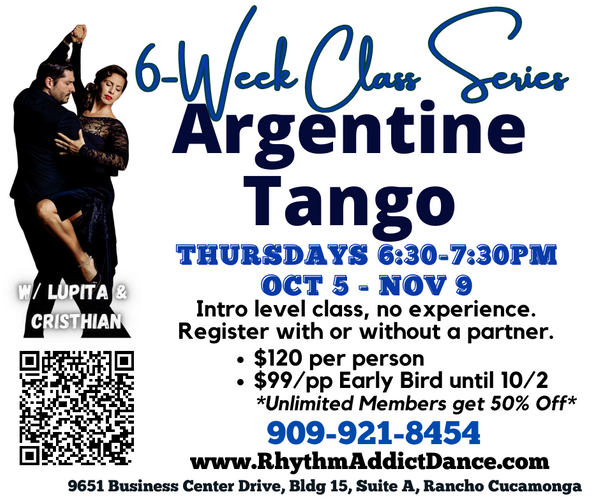 6-Week Argentine Tango Series
Open to singles & couples!
Thursdays in October; 6:30-7:30pm; 10/5 - 11/9
No partner & no experience needed. See more...
Welcome to RhythmAddict Dance Studio
We are the IE's longest running and most respected dance studio catering only to Adult learners (18+). We specialize in popular partner dances: Salsa, Bachata, Ballroom & Swing. We have the cure to the dreaded "two left feet" syndrome so many people suffer from, and the cure is fun, easy, great exercise, and the best way possible to make new friends!
Dancing is your answer to a more fulfilled and fun life, increased energy, overall fitness, and the best way to meet people and make friends. Dancing is for everybody - young, old, single or in a relationship. It increases coordination, confidence and social skills.
RhythmAddict is THE place for people new to dancing because with our easy to follow system and fun teaching style. We specialize in beginner dancers to teach the foundation of partner dancing, to make it fun and accessible, and just a little bit challenging..
With 14 years in business, we have learned what all new dancers need to learn - it's first class instruction (which we supply in spades) - and lots of repetition. So, our class format and our class schedule are designed to provide you with both. Based upon the numbers of happy students proud of their weekly improvement, our system appears to work wonderfully. Are you next?
All classes, workshops and socials are at our address: 9651 Business Center Drive, Building 15, Suite A, Rancho Cucamonga, CA 91730.
Not sure which package to get to start? You can create an account, register for your first class, and then when you come to your class (plan to arrive 10-15 min early) we can help you choose the best package for you - or - if you can come in at least 30min before the start of the first class of the night, we can help you in person.
*Note* Our passion in teaching is geared towards helping those first time dancers, those that are completely new to dance, to make it accessible and fun. If you are looking for intermediate or advanced classes, you'll be required to start in our Foundation/Level 1 class combo for the standard duration of 3-6 weeks just like everyone else. If you'd rather not take beginner classes RhythmAddict may not be the perfect place for you.
If you are a first time dancer, you've always wanted to learn but were scared to try, or you tried a free class at a nightclub and you were lost the whole time - come find your happy place here with us. We'll meet you where you're at and help build you up into the dancer you were always meant to be.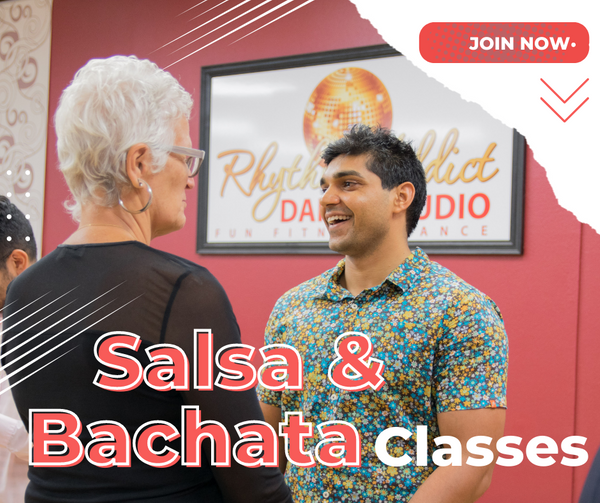 Salsa & Bachata Group Classes
Flexibility, Frequency & Quality with Fun!
Start at any time - with or without a partner.
For your 1st visit (and beyond) plan to join us for any of our Foundations classes, and then put the feet together with the hands with our Partnering Level 1 classes. All New Students must attend at least one Foundation class in order to be allowed to attend a Partnering class and are expected to attend Foundation classes during their first month at the studio. MORE...
Friday Date Night Classes (Couples Only) Ballroom/Swing Series
Our Friday nights at RhythmAddict are dedicated to "Date Night/Dance Night" for all our couples. It's the one class where you aren't constantly changing partners, you stay with the one you brought.
We teach a variety of ballroom and swing dances, 12 in all. Our focus is on teaching you how to socially dance together - we're not trying to get you ready for any type of dance competition - so the styling is casual even though a lot of technique is covered to make your learning experience better and more complete.. MORE..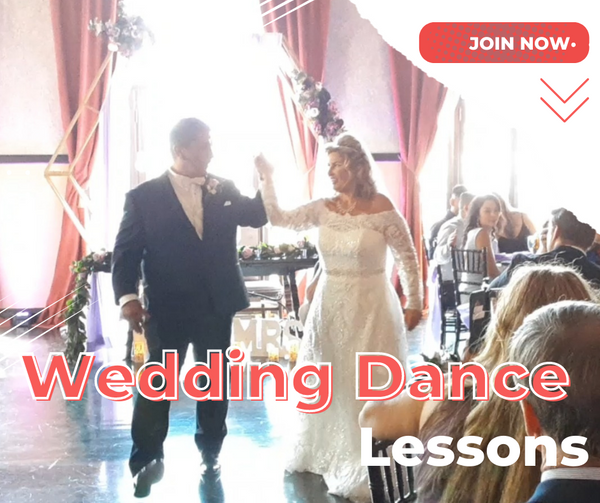 Wedding Dance Instruction
Are you getting married soon? Worried you'll step on yourselves? Uncomfortable in front of a crowd? Dreading the whole "hold & sway" style of dance?
Well, fortunately, we have lots of options for you! MORE...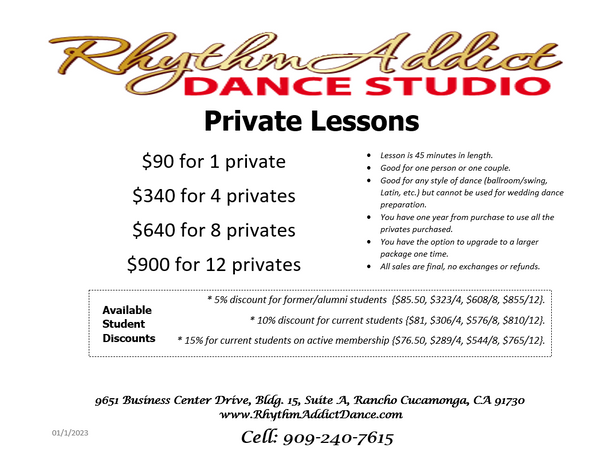 Private Lessons
Whether you are an experienced dancer taking group classes looking to improve your technique, or a complete newbie new to dance wanting some personal one-on-one instruction, private lessons are the answer! MORE...
"Great environment, great people!"
Great environment, great people. It is a very comfortable place to be, to learn and to meet friends. The staff is out of this world. It is a place where you start and you do not want to leave. Thanks for all the good memories. I strongly recommend this studio to learn Salsa, Bachata and other social dances.
- Ricardo M.
"We love coming here"
My husband and I were looking for someone to teach how to dance Salsa and Bachata music. First class was awesome and our teacher did a great job teaching these two left feet. We love coming here and everyone is very welcoming.
- Monica H.
"LGBT friendly"
LGBT Friendly and Welcoming dance studio!! My fiancé and I researched many dance studios and we are lucky to have found a funny, knowledgeable, LGBT welcoming dance teacher, Esther. We are in the middle of learning our first wedding dance and we are loving every minute of our lessons.
- Anna A.
Terms & Conditions
All students must be 18+ years of age to attend group classes
Appropriate footwear required for all classes, socials, bootcamps, etc. No flip flops or open back shoes allowed for safety reasons. Entrance will be refused if wearing unsafe shoes.
Classes start on time. You risk being turned away if you arrive after class has already started.
Walk-ins accepted until 15 minutes before the class starts. Save time by creating an account and registering for your classes online.
New Students/First Visit: You must be registered for a Foundation class to attend, or you have already spoken with studio owner in advance to attend anything other than Foundation on your 1st visit. Any arrival for anything other than Foundation on your first visit risks being turned away.