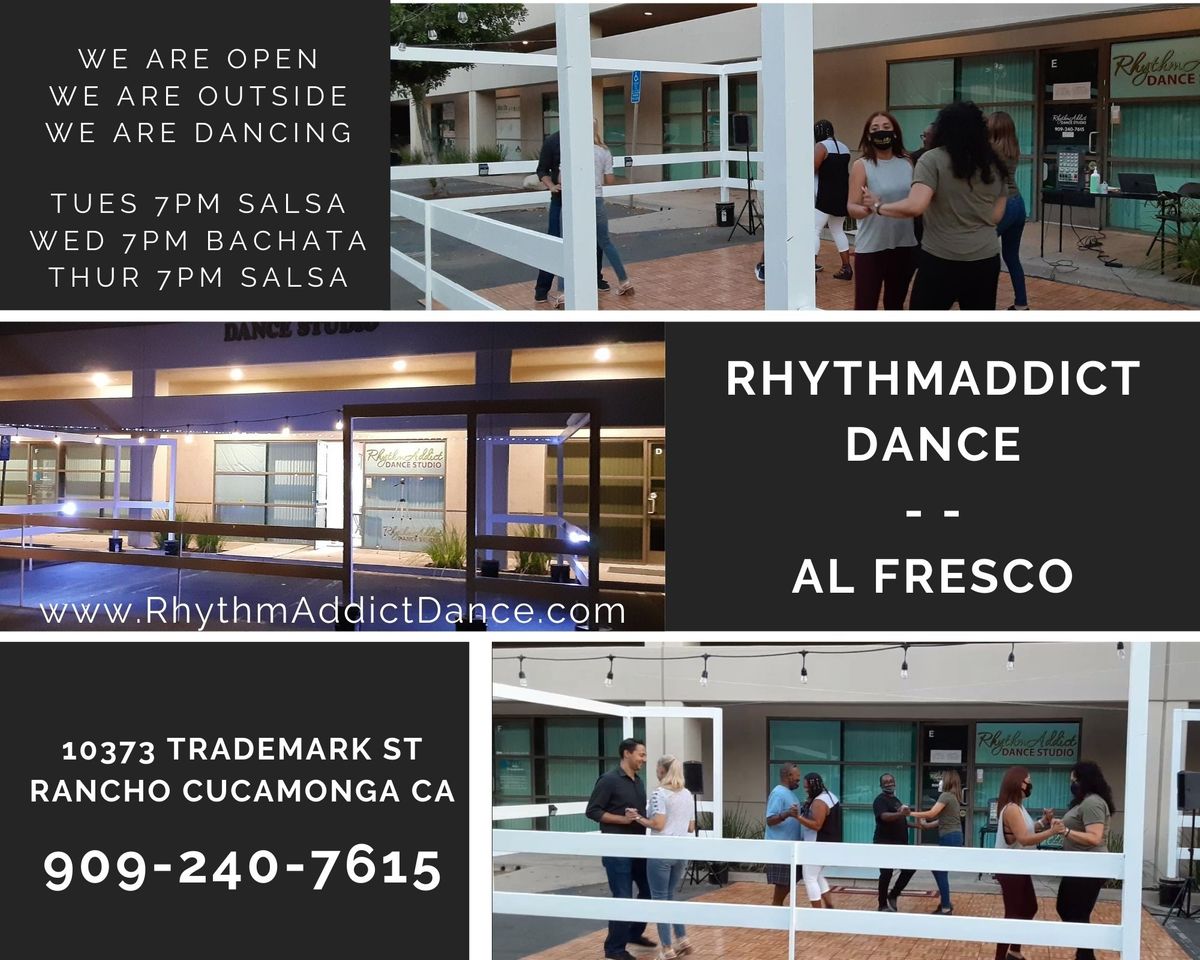 Up to date information: Effective July 29, 2020
Welcome to RhythmAddict Dance Studio
We are the IE's longest running and most respected dance studio catering only to Adult learners. We specialize in popular partner dances: Salsa, Bachata, Ballroom & Swing. We have the cure to the dreaded "two left feet" syndrome so many people suffer from, and the cure is fun, easy, great exercise, and the best way possible to make new friends!
We are so excited to announce that we have finished working on an amazing outside space for our students and we are having our in person group classes!! We'll never stop teaching, we'll just continue to adapt - with your help and continued support!
Join us in our amazing outside dance floor space!
Pre Regiser: Our outside space, amazing as it is, is also much smaller than our actual studio, so we must limit our attendance in order to maintain social distancing. We allow drop in registration at the door as long as we have space in the class. If you don't want to risk being turned away, you can guarantee your space by pre-registering for your next class.
New Students: You can do everything online (create an account, register & pay), or give us a call to get you registered for an upcoming class and we'll take care of the paperwork and payment in person. For your 1st class please plan to show up 10-15 minutes early to allow time to register.
With or Without a Partner: If you have a partner you'll both need to register for your class (again, either online or by giving us a call), and you'll be encouraged to not switch partners. If you do not have a partner you are still welcome to come. You will be required to wear a mask the entire time during partnering and we use lots of hand sanitizer in between dance partners.
If you are interested in live stream or on demand classes, please send us an email to Dance@RhythmAddictDance.com with the subject "Live Stream/On Demand Request".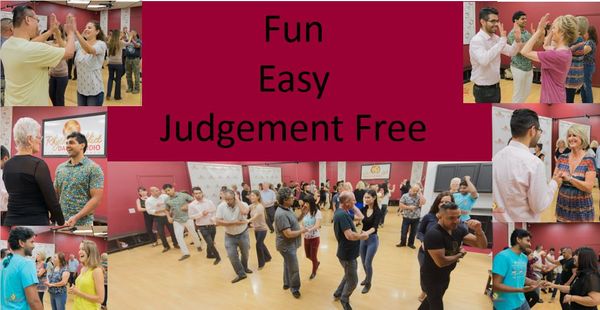 We Make Learning Fun
Learning a new skill, like dancing, can be a little scary at first, but RhythmAddict is here for you. Fun classes with friendly teachers & fellow students, we make it Easy with classes geared towards absolute beginners, and Judgement Free because everyone started at the beginning, just like you!
What Our Clients Are Saying
"Great environment, great people!"
Great environment, great people. It is a very comfortable place to be, to learn and to meet friends. The staff is out of this world. It is a place where you start and you do not want to leave. Thanks for all the good memories. I strongly recommend this studio to learn Salsa, Bachata and other social dances.
- Ricardo M.
"We love coming here"
My husband and I were looking for someone to teach how to dance Salsa and Bachata music. First class was awesome and our teacher did a great job teaching these two left feet. We love coming here and everyone is very welcoming.
- Monica H.
"LGBT friendly"
LGBT Friendly and Welcoming dance studio!! My fiancé and I researched many dance studios and we are lucky to have found a funny, knowledgeable, LGBT welcoming dance teacher, Esther. We are in the middle of learning our first wedding dance and we are loving every minute of our lessons.
- Anna A.