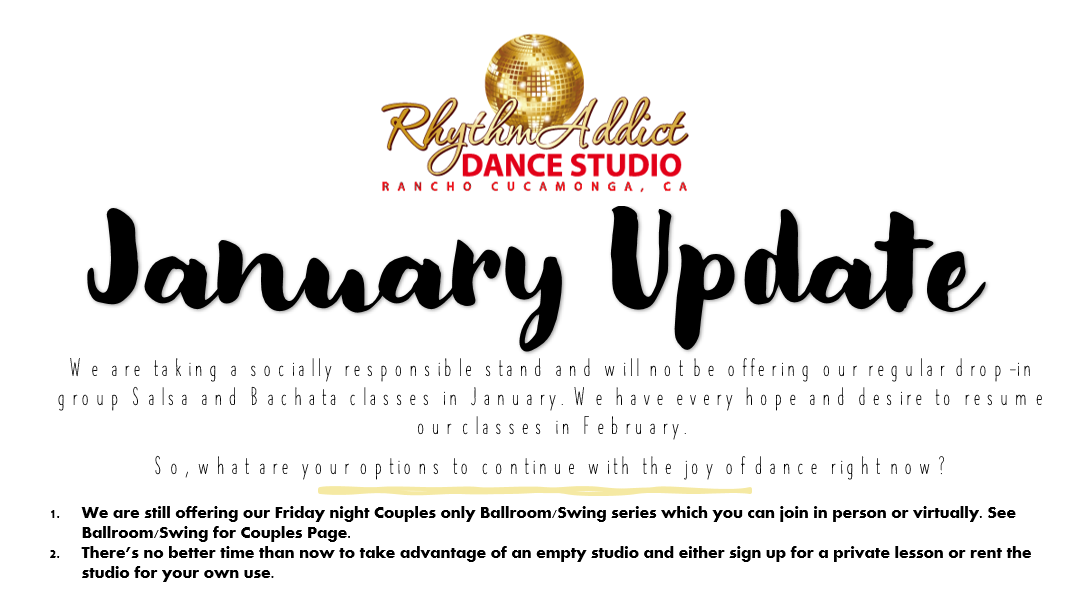 Welcome to RhythmAddict Dance Studio
We are the IE's longest running and most respected dance studio catering only to Adult learners. We specialize in popular partner dances: Salsa, Bachata, Ballroom & Swing. We have the cure to the dreaded "two left feet" syndrome so many people suffer from, and the cure is fun, easy, great exercise, and the best way possible to make new friends!
We are taking a short break from our drop in group classes during the height of hospitalizations and so we can modify our outdoor dance space for the winter months. Our current set up is great for the summer, but winter brings new challenges. Stay tuned for pictures of our new space!
Regular group classes will resume, with the same group class schedule, as soon as deemed safe (our hope is by February 1st). When we reopen we will be offering all of our classes both in-person and online via Zoom. When registering, be sure to select the right option for you. We will be following our standard group class structure of warm up/footwork the 1st half of each class followed by partnering patterns in the 2nd half. If you choose to join us via Zoom we highly recommend having a partner at home.
We'll never stop teaching, we'll just continue to adapt - with your help and continued support!
Continue with the joy of dance & support small business in January!
Due to the nature of our Friday night classes (couples only, no switching of partners, small class with significant numbers joining us online every week), those classes we will continue in January. If you have a partner and would like a challenge of branching out of the Latin dances, we will be starting a 4-week course on an introduction of West Coast Swing - the most versatile of all the swing dances. It can be danced to anything from R&B and Blues, to Country to Contemporary. Just $97/Couple for the entire month. Click here for more information.
There's no better time than right now to take advantage of an empty studio and schedule some private lessons! Most teachers are available in the evening hours, when we would normally be having our group classes, to work with you (and a partner if you have one) on your specific dance goals with a strong understanding of your strengths and weaknesses and how best to help you achieve those goals. We all love the fun and energy of group classes, but there is no comparison in the quality of instruction you can get in a one-on-one private lesson. Click here for more information.
Would a floating floor, built-in sound system, and a wall of mirrors inspire you to move and create and fall in love with dance all over again? Well, since we are not currently holding our regular group classes, the studio is also available for hourly rental. Come on your own, bring a partner, or even a friend or two. Click here for more information.
We Make Learning Fun
Learning a new skill, like dancing, can be a little scary at first, but RhythmAddict is here for you. Fun classes with friendly teachers & fellow students, we make it Easy with classes geared towards absolute beginners, and Judgement Free because everyone started at the beginning, just like you!
What Our Clients Are Saying
"Great environment, great people!"
Great environment, great people. It is a very comfortable place to be, to learn and to meet friends. The staff is out of this world. It is a place where you start and you do not want to leave. Thanks for all the good memories. I strongly recommend this studio to learn Salsa, Bachata and other social dances.
- Ricardo M.
"We love coming here"
My husband and I were looking for someone to teach how to dance Salsa and Bachata music. First class was awesome and our teacher did a great job teaching these two left feet. We love coming here and everyone is very welcoming.
- Monica H.
"LGBT friendly"
LGBT Friendly and Welcoming dance studio!! My fiancé and I researched many dance studios and we are lucky to have found a funny, knowledgeable, LGBT welcoming dance teacher, Esther. We are in the middle of learning our first wedding dance and we are loving every minute of our lessons.
- Anna A.