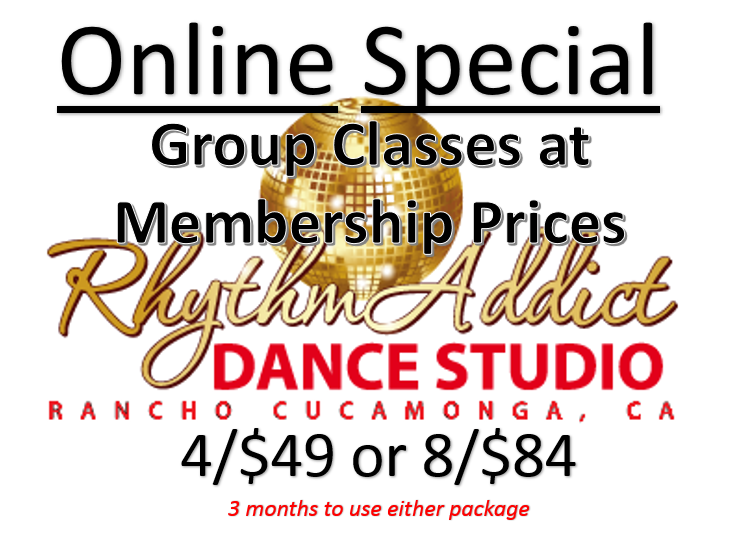 Welcome to RhythmAddict Dance Studio
We are the IE's longest running and most respected dance studio catering only to Adult learners. We specialize in popular partner dances: Salsa, Bachata, Ballroom & Swing. We have the cure to the dreaded "two left feet" syndrome so many people suffer from, and the cure is fun, easy, great exercise, and the best way possible to make new friends!
We closed our physical doors due to the state's shelter-in-place mandate, but we haven't stopped teaching - not at all! You now have 2 ways to learn: Live Stream a class (see schedule below), or, Next-Day Recording Link.
Live Stream: See schedule below. Once you've registered, you'll be receiving an email about 30 minutes before class with the link to the Zoom meeting - it'll have both a meeting number and a password to give you access. Be sure to sign in to the link at least 5 minutes early to check for audio/video. Make some space in your home. Reduce your distractions. And have fun with us - it's very interactive.
Next-Day Recording Link: if you are unable to live stream - class time is inconvenient, too many distractions, etc, - we are now recording our classes as they happen in Zoom. Register for the class as usual. We check for attendance each class, so, if we don't see you in the Zoom meeting, you'll be receiving an email with a link to the class recording by the Next Day. It's almost like being with us, but at your schedule, not ours.
What Our Clients Are Saying
"Great environment, great people!"
Great environment, great people. It is a very comfortable place to be, to learn and to meet friends. The staff is out of this world. It is a place where you start and you do not want to leave. Thanks for all the good memories. I strongly recommend this studio to learn Salsa, Bachata and other social dances.
- Ricardo M.
"We love coming here"
My husband and I were looking for someone to teach how to dance Salsa and Bachata music. First class was awesome and our teacher did a great job teaching these two left feet. We love coming here and everyone is very welcoming.
- Monica H.
"LGBT friendly"
LGBT Friendly and Welcoming dance studio!! My fiancé and I researched many dance studios and we are lucky to have found a funny, knowledgeable, LGBT welcoming dance teacher, Esther. We are in the middle of learning our first wedding dance and we are loving every minute of our lessons.
- Anna A.