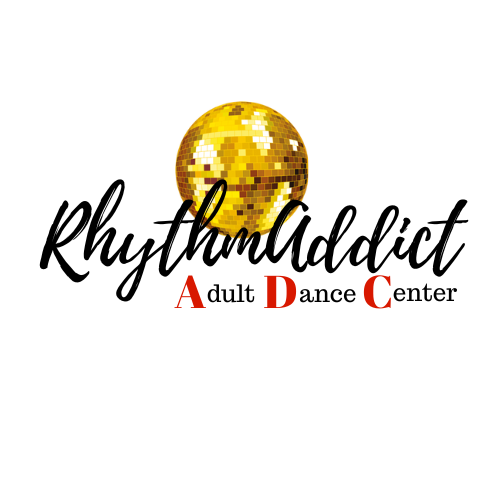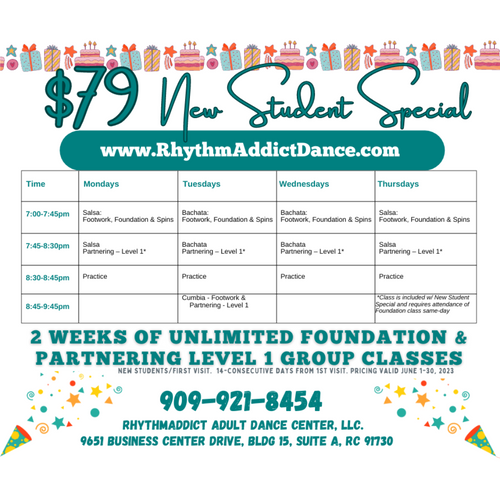 Celebrate RhythmAddict's owner's Birthday month, with a $79 New Student Special! Gives you 2-weeks of unlimited beginner Salsa, Bachata & Cumbia classes. Tell us you saw this on our website, and get a 30-min private lesson for FREE*
Create an account and start dancing tonight!
Welcome to RhythmAddict Dance Studio
We are the IE's longest running and most respected dance studio catering only to Adult learners (18+). We specialize in popular partner dances: Salsa, Bachata, Ballroom & Swing. We have the cure to the dreaded "two left feet" syndrome so many people suffer from, and the cure is fun, easy, great exercise, and the best way possible to make new friends!
All classes, workshops and socials are at our address: 9651 Business Center Drive, Building 15, Suite A, Rancho Cucamonga, CA 91730.
Click on any of the links below for more information.
Use our "Create an Account" page to create a new account.
Use our "Buy Classes" page to purchase classes.
Use our "Book a Class" page to book an upcoming class.
Go to "My Account" to view and make changes to your scheduled classes.
Not sure which package to get to start? You can create an account, register for your first class, and then when you come to your class (plan to arrive 10-15 min early) we can help you choose the best package for you - or - if you can come in at least 30min before the start of the first class of the night, we can help you in person (must schedule this time by calling/texting 909-921-8454 at least 24-hours b4 your visit)
*Note* Our passion in teaching is geared towards helping those first time dancers, those that are completely new to dance, to make it accessible and fun. If you are looking for intermediate or advanced classes, you'll be required to start in our Foundation/Level 1 class combo for the standard duration of 3-6 weeks just like everyone else. If you'd rather not take beginner classes RhythmAddict may not be the perfect place for you.
If you are a first time dancer, you've always wanted to learn but were scared to try, or you tried a free class at a nightclub and you were lost the whole time - come find your happy place here with us. We'll meet you where you're at and help build you up into the dancer you were always meant to be.
What Our Clients Are Saying
"Great environment, great people!"
Great environment, great people. It is a very comfortable place to be, to learn and to meet friends. The staff is out of this world. It is a place where you start and you do not want to leave. Thanks for all the good memories. I strongly recommend this studio to learn Salsa, Bachata and other social dances.
- Ricardo M.
"We love coming here"
My husband and I were looking for someone to teach how to dance Salsa and Bachata music. First class was awesome and our teacher did a great job teaching these two left feet. We love coming here and everyone is very welcoming.
- Monica H.
"LGBT friendly"
LGBT Friendly and Welcoming dance studio!! My fiancé and I researched many dance studios and we are lucky to have found a funny, knowledgeable, LGBT welcoming dance teacher, Esther. We are in the middle of learning our first wedding dance and we are loving every minute of our lessons.
- Anna A.
Terms & Conditions
All students must be 18+ years of age to attend group classes
Appropriate footwear required for all classes, socials, bootcamps, etc. No flip flops or open back shoes allowed for safety reasons. Entrance will be refused if wearing unsafe shoes.
Classes start on time. You risk being turned away if you arrive after class has already started.
Walk-ins accepted until 15 minutes before the class starts. Save time by creating an account and registering for your classes online.
New Students/First Visit: You must be registered for a Foundation class to attend, or you have already spoken with studio owner in advance to attend anything other than Foundation on your 1st visit. Any arrival for anything other than Foundation on your first visit risks being turned away.