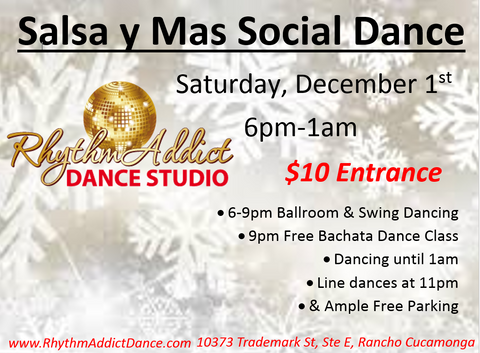 Salsa y Mas Social Dance
December 1, 2018 6pm
Simply the BEST way to spend any Saturday night! Let's Dance!! Announcing RhythmAddict's eagerly awaited monthly social dance - for students, strangers and friends - on Saturday, December 1st.
Ballroom & swing music from 6-9pm.
Free mini Bachata lesson at 9pm.
Then Salsa, Bachata and Chachacha music and dancing until 1am.
We'll take a break at 11pm for our famous line dances.
Snacks & refreshments plus ample free parking and a spacious floating dance floor for just $10.
We look forward to seeing you then!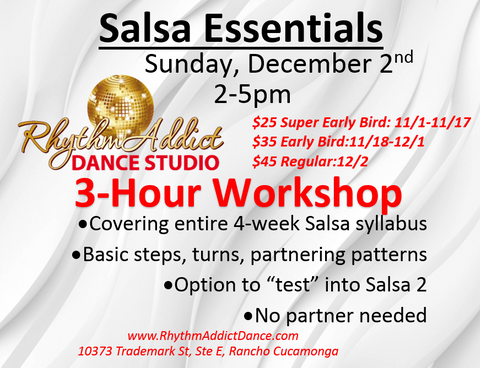 Salsa Essentials 3-Hour Workshop
December 2, 2018 2pm - December 2, 2018 5pm
Take advantage of the opportunity to learn the entire 4-week Beginning Salsa workshop in just 3 short hours with Esther Garrison.
All of your basic steps, turns and patterns
Option to "test" into Salsa 2
No partner needed
$25 Super Early Bird: 11/1-11/17
$35 Early Bird: 11/18-12/1
$45 Regular: 12/2