$89 New Student Special
Invite your friends, co-workers, neighbors, bf or gf, wife or husband, & dance with us!
Enjoy our $89 New Student Special for 2 weeks of Unlimited classes!!! And as a BONUS (worth $75) get a 30 min Private Lesson for FREE (one per person/couple; must be scheduled & used within your 2-weeks of classes)
Valid on your first visit to the studio for our ongoing Salsa and Bachata group classes. Start at any time. With or without a partner. No experience needed!!
Join us to start dancing tonight!
Here at RhythmAddict Dance we specialize in beginner dancers to teach the foundation of partner dancing, to make it fun and accessible, and just a little bit challenging..
With 15 years in business, we have learned what all new dancers need to learn; it's first-class instruction (which we supply in spades) and lots of repetition. So, our class format and our class schedule are designed to provide you with both. Based upon the numbers of happy students proud of their weekly improvement, our system appears to work wonderfully.
New Student Special:
Unlimited - Every day we have group classes - Mon, Tues, Wed & Thu. At least 2 classes per day, sometimes 3! - $89 for 14* days from 1st visit.
Bonus - sign up now and get a 30 min private lesson (value $75) for FREE. One per person/couple. Must be scheduled & attended during your 2-weeks or is forfeit.
As a new dancer, we expect to see you in each Foundation class for the duration of your New Student Special (and afterwards too). You may attend just the Foundation class, or the Foundation and Partnering class, but during this special you are not allowed to attend just the Partnering class.
Just go to Book a Class to get started!
*For new students only, must be purchased in advance or on your first visit. Any purchases remove you from New Student status. No substitutions allowed. Package cannot be shared or transferred or extended. No makeups for absences or cancelled classes.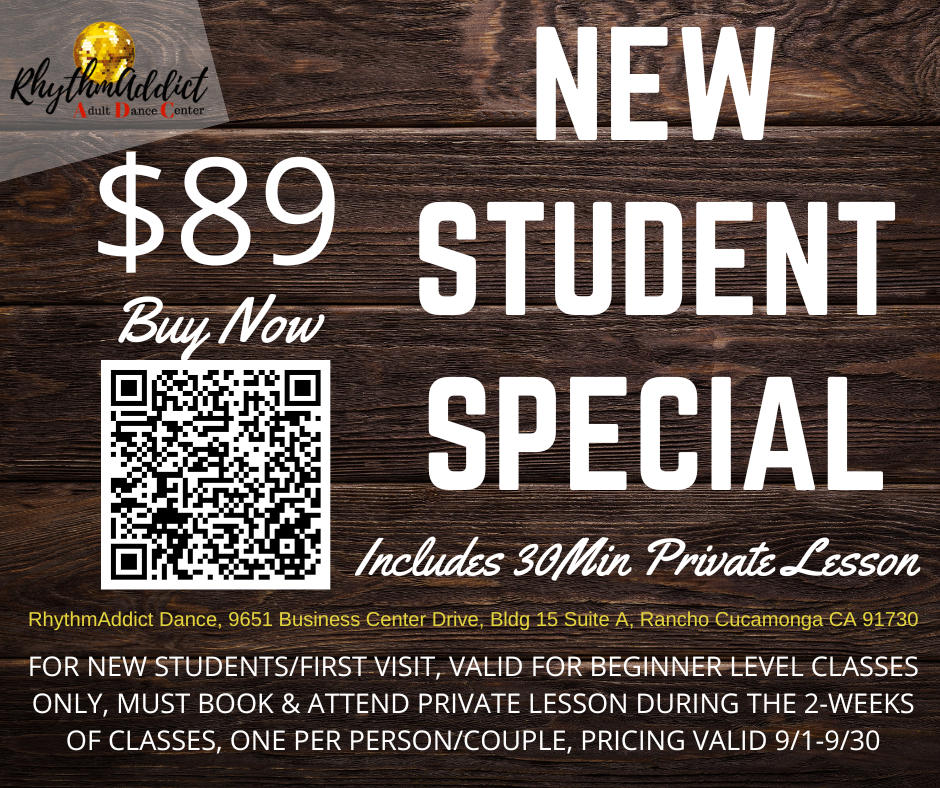 Terms & Conditions
All students must be 18+ years of age to attend group classes
Appropriate footwear required for all classes, socials, bootcamps, etc. No flip flops or open back shoes allowed for safety reasons. Entrance will be refused if wearing unsafe shoes.
Classes start on time. You risk being turned away if you arrive after class has already started.
Walk-ins accepted until 15 minutes before the class starts. Save time by creating an account and registering for your classes online.
New Students/First Visit: You must be registered for a Foundation class to attend, or you have already spoken with studio owner in advance to attend anything other than Foundation on your 1st visit. Any arrival for anything other than Foundation on your first visit risks being turned away.