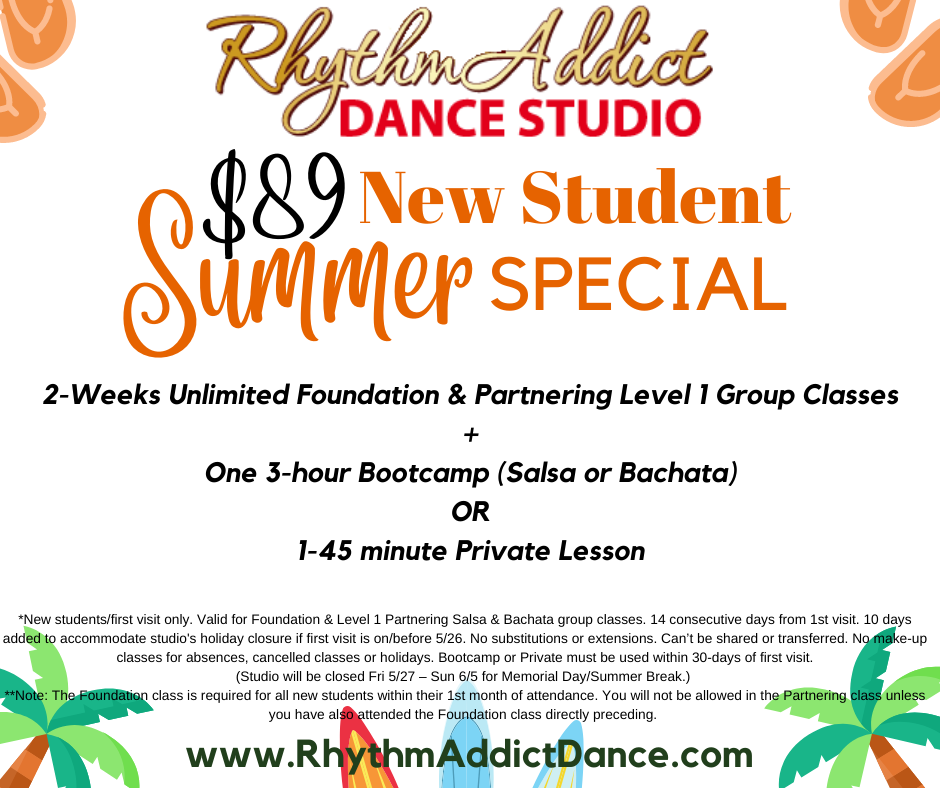 New Student Specials
Welcome to RhythmAddict Dance! We specialize in beginner dancers to teach the foundation of partner dancing, to make it fun and accessible, and just a little bit challenging..
With over 13 years in business, we have learned what all new dancers need to learn - it's first class instruction (which we supply in spades) and lots of repetition. So, our class format and our class schedule are designed to provide you with both. Based upon the numbers of happy students proud of their weekly improvement, our system appears to work wonderfully.
New Student Special:
$89 2-Weeks Unlimited Beginner Group Classes + 1 Bootcamp OR 1 Private Lesson - Join us for beginner level group classes on Mondays, Tuesdays, Wednesdays and Thursdays for 2 weeks (14 consecutive days from 1st visit). PLUS ++ Choose from either a 3-Hour Bootcamp , Salsa or Bachata, OR 1-45 minute Private Lesson. The Bootcamp/Private must be taken within 30 days of your first visit.
When you join us for our New Student Special, you get unlimited access to
Bachata: Foundation, Footwork and Spins class on Mondays and Wednesdays
Salsa: Foundation, Footwork and Spins class on Mondays and Thursdays
Bachata: Partnering Level 1 class on Tuesdays and Wednesdays
Salsa: Partnering Level 1 class on Tuesdays and Thursdays.
Bonus classes on Mondays
As a new dancer, we expect to see you in each Foundation class for the duration of the special (and afterwards too). You may attend just the Foundation class, or the Foundation and Partnering class, but during this special you are not allowed to attend just the Partnering class.
We do not have any front desk staff, so we are asking everyone to create your account online and reserve all of the classes you'll be attending each day/week. We have short practice breaks after the Partnering Level 1 classes on Wednesdays and Thursdays where we can help to process payment if you'd rather not pay online, but you'll be missing the practice time that day.
You can register through the interactive class schedule on the Home Page, or you can access your account to reserve classes, see your schedule of classes or cancel classes at the bottom of each page using the My Account link.
*for New students/First visit only, valid 14 consecutive days from 1st visit , valid for Foundation & Level 1 Salsa & Bachata Partnering classes no substitutions allowed, package cannot be shared or transferred or extended, no makeups for absences, holidays or cancelled classes, any higher level classes will be charged at regular price.
**Not accepting walk-in registrations. Please, register online.**