Dance with Rhythm, Learn from RhythmAddict
Dancing is your answer to a more fulfilled and fun life, increased energy, overall fitness, and the best way to meet people and make friends. Dancing is for everybody - young, old, single or in a relationship. It increases coordination, confidence and social skills.
RhythmAddict is THE place for people new to dancing because with our easy to follow system and fun teaching style, we are the cure for the "2-Left Feet" syndrome. We can teach anyone willing to learn, no matter the excuse. We accept the challenge, do YOU?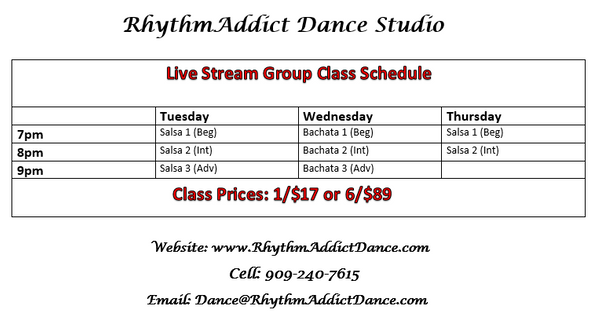 Join us OnLine!!
Stuck at home? Wanna learn to dance?
RhythmAddict has got you covered!!
We are now online!
Join your favorite RhythmAddict teachers, for your favorite dance classes, from the comfort of your own home.
Click here to go to our scheduling software https://clients.mindbodyonline.com/classic/ws?studioid=13486&stype=-98 (MindBody) to get registered & join us soon!