Dance with Rhythm, Learn from RhythmAddict
Dancing is your answer to a more fulfilled and fun life, increased energy, overall fitness, and the best way to meet people and make friends. Dancing is for everybody - young, old, single or in a relationship. It increases coordination, confidence and social skills.
RhythmAddict is THE place for people new to dancing because with our easy to follow system and fun teaching style, we are the cure for the "2-Left Feet" syndrome. We can teach anyone willing to learn, no matter the excuse. We accept the challenge, do YOU?
Who are you? What do you want? When/how do you want it?
We have lots of options to help you get started, so asking a few questions at the beginning will definitely help you to decide how to get started.
Who are you? Whether you'll be taking classes solo or with a partner, we have options
What do you want? If you want just one style of dance or lots of styles, we have options
When/how do you want it? If you can come multiple days per week, or just once a week, we have options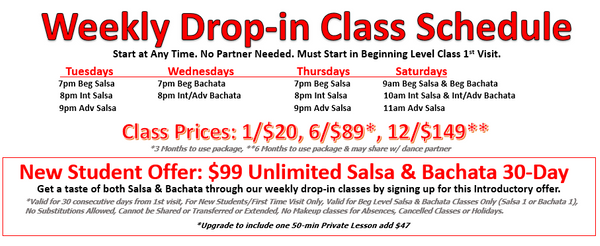 Drop-In Salsa & Bachata Classes
Solo or with a partner, one style or multiple styles, multiple days per week or once a week - our Drop-In Class schedule will work for you.
Start at any time.
Come with or without a partner.
Come once a week or more.
Note: We ask that everyone's first visit is in Level 1. Please arrive 10 min early for your first class and wear comfortable shoes with straps or ties that will stay on your feet.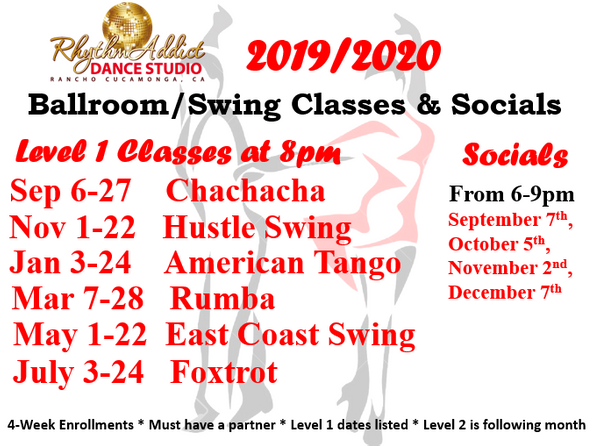 Ballroom/Swing Series for Couples
With a partner (solo dancers please go to the next page for our dance partner matching database), multiple styles (10 in all), once a week - this is our Friday night/Date night/Dance night for couples.
Specific start/finish dates
Must have a partner (or register for a match)
Meets on Friday nights
Every other month we start a new Beginning Level class of one of 10 different dances, each one prepares you for any evening of dance at most any type of event. Just $97/mo per couple = romance via dance.