Dance with Rhythm, Learn from RhythmAddict
Dancing is your answer to a more fulfilled and fun life, increased energy, overall fitness, and the best way to meet people and make friends. Dancing is for everybody - young, old, single or in a relationship. It increases coordination, confidence and social skills.
RhythmAddict is THE place for people new to dancing because with our easy to follow system and fun teaching style, we are the cure for the "2-Left Feet" syndrome. We can teach anyone willing to learn, no matter the excuse. We accept the challenge, do YOU?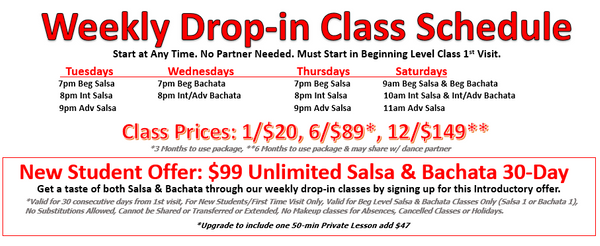 Drop-In Salsa & Bachata Classes
Solo or with a partner, one style or multiple styles, multiple days per week or once a week - our Drop-In Class schedule will work for you.
Start at any time.
Come with or without a partner.
Come once a week or more.
Note: We ask that everyone's first visit is in Level 1. Please arrive 10 min early for your first class and wear comfortable shoes with straps or ties that will stay on your feet.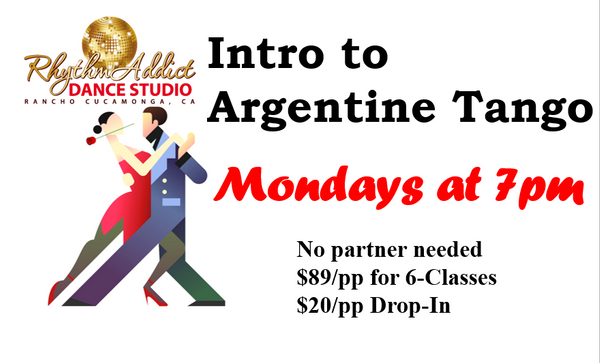 Intro to Argentine Tango Class
Solo or with a partner, one style, once a week - this is a 6-Week Intro class - to learn the foundation of Argentine Tango, that has specific start/finish dates. We are currently planning for our upcoming classes in January 2020. Please complete the Contact Form & select Tango to be added to our notification list for our next class start date.
Specific Start Dates (check back for updates or complete a contact form to be added to our email list)
Come with or without a partner
Class meets once a week
Such an amazing way to spend your Monday night. Learn authentic Argentine Tango in a class that emphasizes technique, musicality and connection.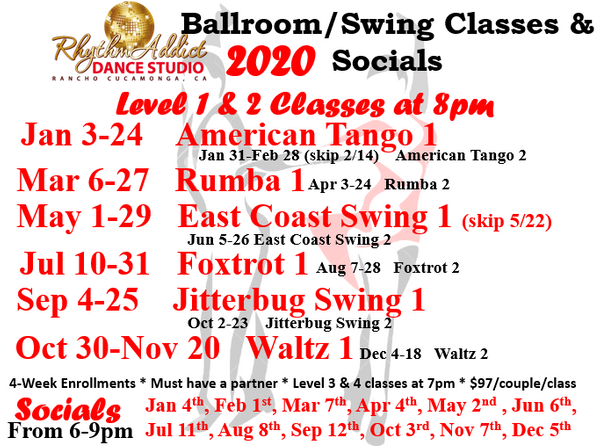 Ballroom/Swing Series for Couples
With a partner (solo dancers please go to the next page for our dance partner matching database), multiple styles (10 in all), once a week - this is our Friday night/Date night/Dance night for couples.
Specific start/finish dates
Must have a partner (or register for a match)
Meets on Friday nights
Every other month we start a new Beginning Level class of one of 10 different dances, each one prepares you for any evening of dance at most any type of event. Just $97/mo per couple = romance via dance.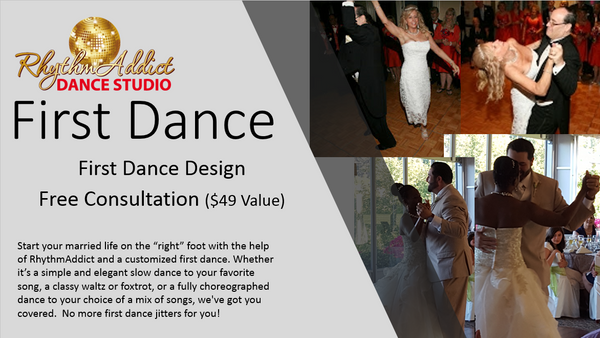 Wedding Dance
Are you getting married soon? Worried you'll step on yourselves? Uncomfortable in front of a crowd? Dreading the whole "hold & sway" style of dance?
Well, fortunately, we have lots of options for you!
1) We offer Private lessons to teach you how to dance to the song of your choosing. These are available in 50 min increments, and scheduled based upon your availability. 15 min First Dance Consultation ($49 value) for Free when you call to book.
2) If you have some time before the wedding and you're looking to learn to dance (and then we can put it all together for a seamless first dance), join us for our Friday Night Ballroom/Swing for Couples class series. We cover 10 different dances - 4 of which are great for first dances. See schedule above.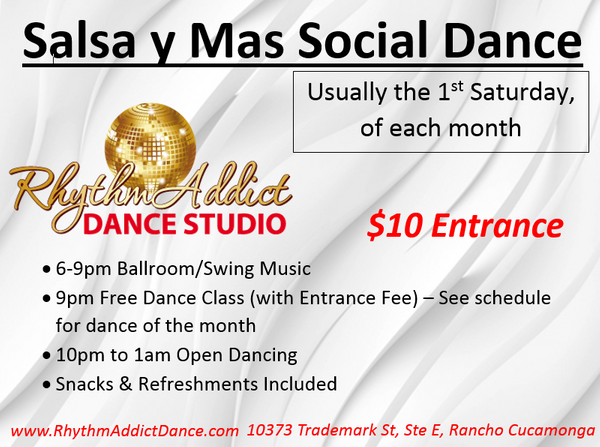 Socials
RhythmAddict is so much more than just lessons - and learning to dance is so much more than taking classes. You need to practice! Unlike most things to have to practice to get better at - dancing is actually fun!
Going out to the nightclubs can be very intimidating - it looks like everyone else already knows what they're doing - and it can be a little scary because you may not know anyone - and if you don't know anyone, you might not get to dance very much. Right?
The solution? RhythmAddict's Monthly Social Dance: Salsa y Mas
Join your fellow students for a fun night of practice. You'll get warmed up and mixed around with different partners during the lesson. Then remember names from then or from your classes, so you'll have partners all night. Since everyone is in the learning phase, all levels of dancers are welcome. It's a great opportunity to come enjoy yourself, meet your fellow students, and reinforce everything you learn in class.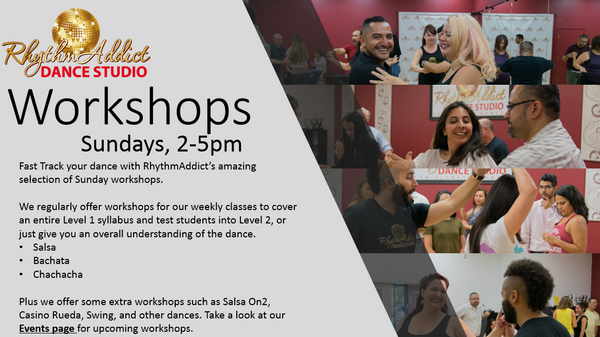 Workshops
Fast track your dance with RhythmAddict's amazing 3-hour workshops. Expect the very best instruction every single time. We offer Intro workshops every month and alternate between Salsa & Bachata (generally the 3rd Sunday of the month). Plus, keep an eye out for special interest workshops - Swing, Chachacha, Casino Rueda, Salsa on 2, Cumbia, etc.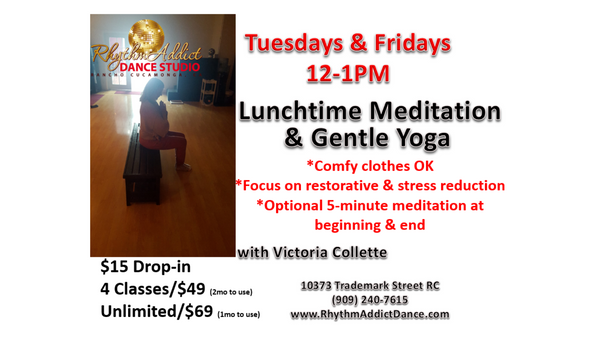 Lunchtime Meditation & Gentle Yoga
Are you free either Tuesday or Friday at lunch? Are you looking for stress reduction & some gentle stretching that doesn't require you to wear specific yoga clothes or worry about getting sweaty?
Introducing:: Lunchtime Meditation & Gentle Yoga
Click on the Picture for more Information