Ballroom/Swing for Couples
Latin Dance for Couples - new 6pm Class
Have you been wanting to learn Salsa & Bachata and all the other fun Latin dances, but you really only want to learn with your partner? Well, here's the solution:
Latin Dance for Couples Series at 6pm
Salsa for Couples - 9/10-10/1
Bachata for Couples - 11/5-11/19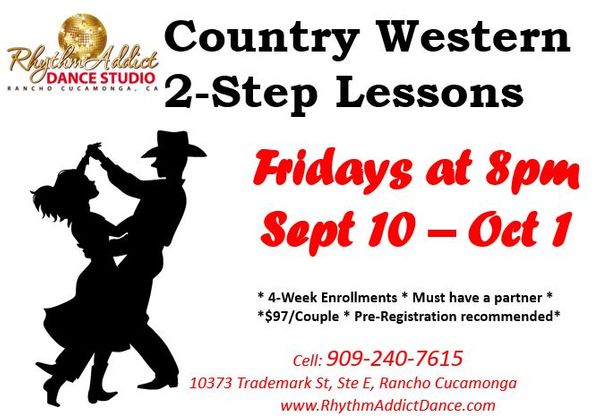 Country Two Step for Couples
Back by popular demand, we're going back to our country roots with the grand daddy of all the country dances - the original 2-Step! We'll start off slow with the basics and have you flowing around the dance floor with ease in just a few short weeks.
Just $97/couple for the whole month - class meets every Friday at 8pm - classes tend to sell out so early registration is highly recommended.
Our Friday nights at RhythmAddict are dedicated to "Date Night/Dance Night" for all our couples. It's the one class where you aren't constantly changing partners, you stay with the one you brought.
We teach a variety of ballroom and swing dances, 12 in all. Our focus is on teaching you how to socially dance together - we're not trying to get you ready for any type of dance competition - so the styling is casual even though a lot of technique is covered to make your learning experience better and more complete.
Dancing is a great skill that comes in handy for any family party, weddings, cruises, etc. Learn the foundation so dancing is fun, you can impress all your friends and it's a great bonding activity together.
1st month is always Beginner followed directly in the 2nd month with an Improver level. Just these two months will have you dancing socially with confidence. For more of a challenge, we also have Intermediate & Advanced level classes at an earlier time slot when you're ready to add more.
Start with any Level 1 class of your choice. We break down the basics to make it easy to get started and having fun right away. And it's only $97 per couple for the whole month.
We offer our classes in person at the studio. Just register for the month (with your partner), and we'll see you at the first class, and each week following.
You can register online or contact us (call or email) for assistance.
Go to registration page HERE