Gabe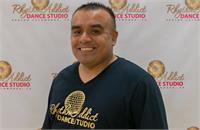 A charismatic and well-known dancer in the IE, who started with his first Salsa lessons at RhythmAddict, and went on to be a key member with Quest Bachata Dance team, Gabe is returning to his roots as the instructor for Bachata 1 and 2 on Wednesday evenings here at RhythmAddict.
Gabe instructs the following:
A fun and easy dance from the Dominican Republic, we have your basic steps and patterns broken down into a series of 6 weeks of classes to get you into Bachata 2. Start at any time, with or without a partner!




Take your Bachata to the next level in Bachata 2 - a little more footwork, harder patterns, even more fun!