Salsa 2 (Int)
This class is taught by: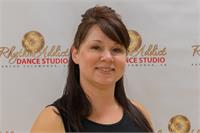 Anna is your Salsa 1 and Salsa 2 teacher here at RhythmAddict. A seasoned Zumba instructor, with lots of energy, she took to Salsa quickly and does an excellent job breaking down the basics even for the most beginner dancer.
Start your journey to Fun on the Dance Floor with Anna!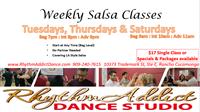 You've mastered the fundamentals covered in Salsa 1 with RhythmAddict? Then Salsa 2 is for you. We add to your fundamental right & left turns with new handholds that open up new possibilities. Plus we add the turn to your cross body lead. We move a little faster in this class since we don't need to spend time on your basic steps & turns. This class gives you more ammo for the social dance floor and prepares you for Salsa 3. PREREQUISITE: Salsa 1 completion at RhythmAddict.
Upcoming classes: