Chachacha - Open Level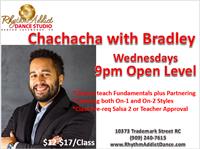 Join us every Wednesday night at 9pm, with our newest instructor - Bradley Franklin - for a challenging and fun Open Level Chachacha Class. We highly recommend you are in Salsa 2 before you start joining, or get teacher approval.
Bradley will be covering your basics - both on 1 and on 2 - with turns, styling and partnering.
Upcoming classes: