Jitterbug Swing 1 - Couples Only - 5/5-6/2 (skip 5/26)
This class is taught by: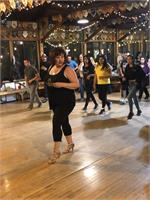 Welcome to RhythmAddict Dance Studio. My name is Esther Garrison. I am the proud owner and the primary teacher at RhythmAddict.
I am a professionally trained ballroom dance teacher via the Arthur Murray dance studio system plus a seasoned Salsera with dance contest trophies and performance experience locally plus twice at the LA Salsa Congress.
RhythmAddict's mission is to introduce people to the joy of dance and how it can improve not only your physical well being, but also your mental & emotional, all under the disguise of FUN.
Please feel free to browse our website for class information or just give us a call to learn more about our many offerings. Take care & keep dancing!
Do you love 1940s Glen Miller? Then you'll love the fun, fast & easy Jitterbug Swing (also called a single step swing).
It's one of the easiest to learn and certainly one of the funnest to dance!
Join us May 5-June 2nd (skip 5/26) - at 8pm for four weeks of your Jitterbug basics.
Just $90 per couple for the 4-weeks.